Furman Power Factor Pro - Mint!
$250.00 Or Best Offer Shipped and PayPal'ed. CONUS ONLY! NO TRADES!
Includes original Heavy Duty Power Cable.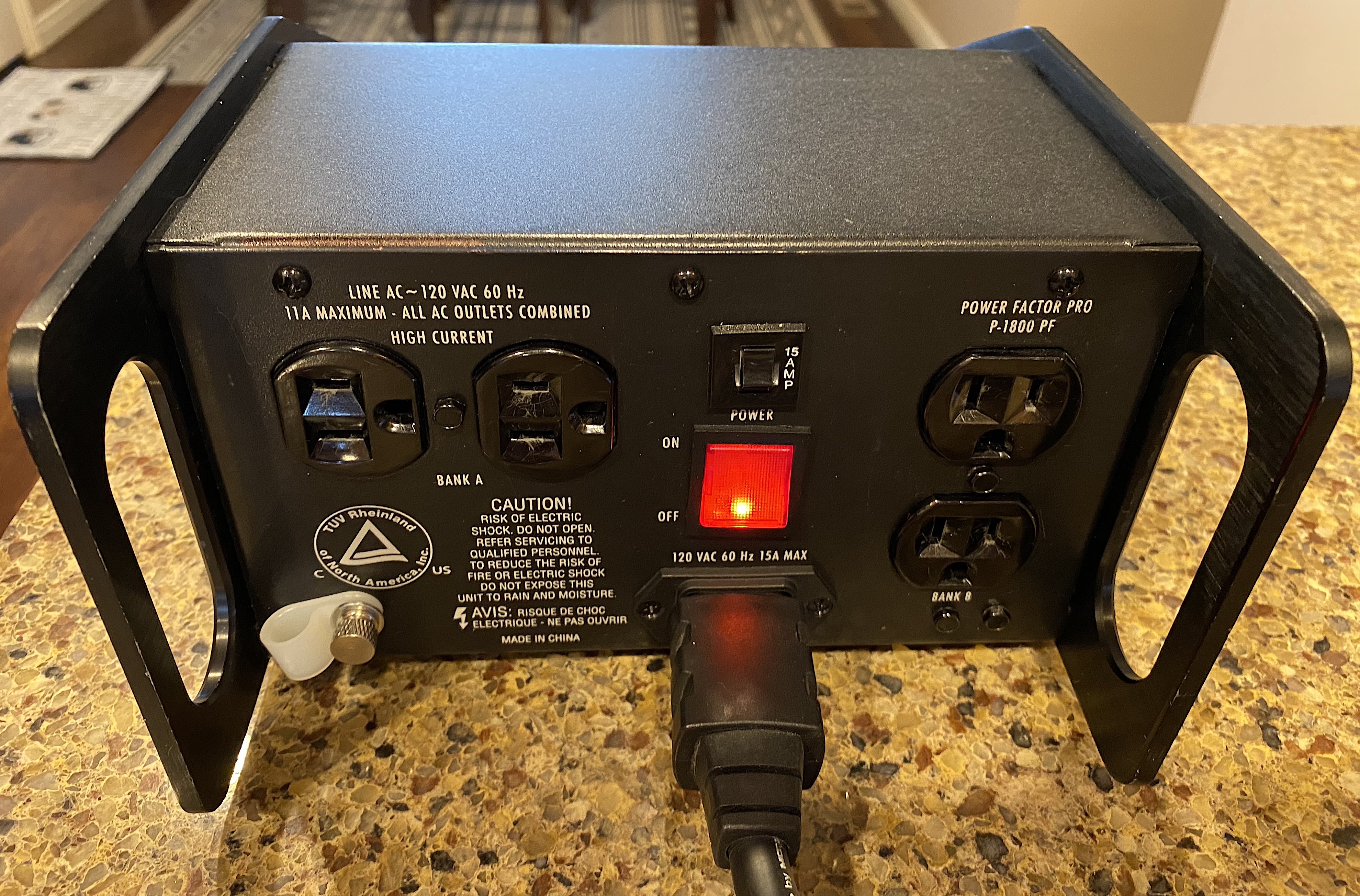 The Power Factor Pro's Clear Tone Technology actually lowers the AC line impedance supplied by your wall outlet, while storing energy for peak current demands. In fact, there are over 45 amps of instantaneous current reserve in the Power Factor Pro. Additionally, Linear Filtering Technology dramatically lowers AC line noise to unprecedented levels in the critical audio frequency band. What does this mean? Just plug in your current starved amplifier, crank up the volume, and listen to the dynamics, harmonics, and clarity you've been missing!
Additionally, the Power Factor Pro is the most comprehensive power conditioner ever created for the serious musician. Maintenance free - Series Multi-Stage Protection guards your equipment from voltage spikes that can damage your clamps at 188 Vpk, 133 VAC RMS even when tested with multiple 6000 VAC - 3000 amp surges! The pro level over-voltage auto shutdown circuit assures you will never see your prized amplifier go up in flames because of a sustained voltage overload.

The Power Factor Pro has a generous 12-amp RMS capacity; a convenient 20-segment AC voltmeter; a detachable, locking AC cord; and 4 AC outlets, all contained in a small,
convenient, floor-standing package.
Features​
90 to 140 VAC ("E" versions 180 to 280 VAC)
Over-voltage shutdown: 140 VAC typically ("E" versions 280 VAC typically)
Voltmeter accuracy: ±2 VAC, calibrated with internal trimpot adjustments
Spike protection modes: Line to neutral, zero ground leakage
Response time: 1 nanosecond
Maximum surge current: 6,500 amps
Spike clamping voltage: 188 Vpk @ 3,000 amps (133 VAC RMS) (tested to UL-1449 6,000 Vpk @ 3,000 amps)
Noise attenuation: 40dB @ 10kHz , 40dB @ 100kHz, 100dB @ 10MHz
Linear attenuation curve from 0.05 - 100 ohms line impedance
Transient current reservoir: 45 amps peak
Construction: Steel chassis, .190" brushed and red anodized aluminum side panels; glass epoxy printed circuit boards