steve_k wrote:
fretout wrote:
Headstock pics?
Congratulations. You win the "let's be a dick" award for today.
Uhhhh, thanks! Not trying to be a dick at all actually. The only Bartletts I see are the build threads on MLP, and they all sport the typical Gibson headstock. I don't know if Bartlett has their own headstock shape or if they also use the Gibson open book headstock. Just trying to catch a shit of a new design, if it exists. If that makes me the dick of the day, so be it.
I fully support these so-called "replicas". I think that if Gibson could make a guitar people want, they would buy it. They can't build a guitar using the same materials, let alone the attention to detail. Because Gibson wants to fleece people by changing the way they make guitars, and charge people thousands more for a chambered (not that there's anything wrong with that) or fretboards made out of something other than rosewood/Ebony (not that there's anything wrong with that), then we should turn to luthiers that can deliver what we want. Gibson can't make a '59 LP like the independent luthiers can. I've seen many, many, many LPs built off the Bartlett plans, and the overwhelming majority have had more accurate workmanship than Gibson themselves.
I'm not trying to get anyone's guitar taken away. I know several people that have built their guitars off Bartlett's plans and used their maple to make their guitars, and they posted all sorts of pics online (including the headstock), and no one's tried to take their guitars, so I didn't realize it was such an issue. I can understand your concern, but I wasn't aware you being an informed-consumer was an offense. I was only aware of builders that received cease-and-desist notices.
Now, thinking about replicas, many "guitar heroes" use "replica" Gibsons. Slash's original LP was a replica. James Hetfield's Flying V was a replica...
Sorry for derailing your NGD thread. That wasn't really the point. Now, go get some coffee...
_________________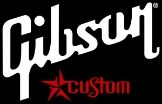 1968 Gibson Les Paul Custom (Alpine White)
1968 Gibson Les Paul Custom Reissue (Natural Flametop)
1968 Gibson Les Paul Custom Reissue (Pelham Blue)
1968 Gibson Les Paul Custom Reissue (Ebony)
2005 Gibson Les Paul Custom (Ebony)
Mark III Coliseums (Blue Stripe and No Stripe)
Mark IVs (Medium Head and Wide Combo)
Blackface Dual Rectifiers (Revisions D and G)