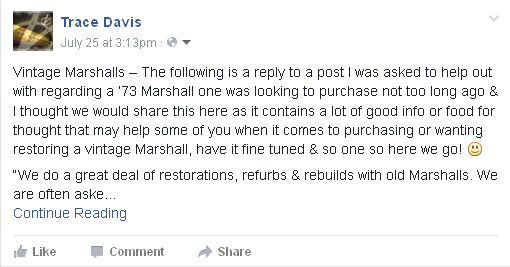 Vintage Marshalls
– The following is a reply to a post I was asked to help out with regarding a '73 Marshall one was looking to purchase not too long ago & I thought we would share this here as it contains a lot of good info or food for thought that may help some of you when it comes to purchasing or wanting restoring a vintage Marshall, have it fine tuned & so one so here we go!

"We do a great deal of restorations, refurbs & rebuilds with old Marshalls. We are often asked 'What is my vintage Marshall really worth?' This is an excellent question & one that I will answer from the perspective of restoring or repairing so please bear with me.
In my very humble opinion, determining the worth of the amp is impacted by several variables such as but not limited to the following;

1.) Year of Manufacture
–
The serial # is stamped into the rear panel & you can click this to date the amp

2.) Photos of the circuit board
- An amp manufactured in 1970 will be hand-wired & with photos one can determine how 'stock' the amp may be, if the amp was repaired or worked on in the past & what the quality of work may or may not be. IE: if the wrong component types were installed (which is subjective based on each tech's opinion) or the quality of work is poor then this will need to be addressed so that the amp sounds & feels as intended.
To go a little more in depth; If an amp was made in '73 then it could be hand-wired or contain a printed circuit board (pcb). With pcb's its a good idea to get photos of the bottom of the pcb, which generally will be more difficult to come by as most are not comfortable with as it usually requires desoldering some wires that are tied to high voltage in order to get the pcb raised up enough to capture photos of the entire pcb.
Additionally the early pcb's were not what I one would consider to be high quality as the pads & traces lift off the board with little to no effort. Most who are not intimately familiar with this usually discover this the hard way, as such a majority of repairs on these boards tend to be poor & require additional repair work as pads & traces are damaged.
3.) Photos of Tube Sockets
- On power tube sockets we look for arching as EL34's almost always short from pin #3 to pin #2, which often times leaves a carbon track on the top and/or bottom side of the socket. This can be cleaned or removed but other times it requires replacing the octal socket & this will add to the repair or restoration bill.
4.) Photos of Filter Caps
- Opinions vary but factually manufacturer's typically design a Filter Cap (electrolytic cap) with a 5 year shelf lift & 10 years in a working circuit presuming the amp is being used & not stored for long periods of time. IE: the electrolytic fluid inside a cap dries up & crystallizes. I have several older LCR & Daley branded caps here in my office that resister within spec when tested however when you shake them back & forth it literally sounds like a maraca (lol), in other words the fluid has crystallized. I could be exercise caution when attempting to reform filter caps as personally speaking I have never seen dried up / crystallized electrolytic fluid converted back to it's previous liquid-like state by any method of reforming. In my humble opinion amps will sound, perform & feel better when recapped with quality filter caps but I digress. In short if the amp has not had its Filter Caps replaced it will need to be done, which in turn adds to the cost. On a personal note, I have sent old Filter Caps fail causing damage to a transformer(s) on several amps that were used on iconic or legendary recordings, not trying to scare anyone but rather just being honest.
5.) Photos of Transformers
- Generally speaking if the amp has stock transformers it will command a higher resale value. Replacement transformers can effect the resale value based on the brand of transformer. It is worth mentioning that transformers do not last forever & we are upon the time where this is now relevant& will begin to effect resale value depending on if one is purchasing for collectability only or planning on playing the amplifier. IE: we've seen many vintage era Tweed era Fender amps coming in with shorted transformers as they are at or approaching the end of their product life. On one hand the amps sound stunning right before the transformer(s) stop working & on the other hand once a transformer does stop working the owner will need to replace it if they plan on playing the amp.
6.) Speaker Impedance 'Push In' Bulgin Connectors
- These proceeded the rotary 3-position style components that followed. Opinions vary on the 'Push-In' style Bulgin connectors & in my humble opinion we opt to disconnect these & hard wire the 8ohm & 16ohm taps to the (2) 1/4" speaker jacks & properly label them. The reason we do this is that the metal on the female connector becomes brittle over the years & usually has been retentioned several times, which weakens the metal each time is retentioned. Naturally most crank these amps to get the desired tone & when the male pin looses connection to the female pin it typically shorts the Output Transformer (intermittently or otherwise) as well as the power tube(s). We have replaced a great many Output Transformers due to this.
I'm terribly sorry for the long reply, I would like to state that I not suggesting my way is the only way to view this topic but rather I am posting this based on my experience over the years & what we deal with when working on or restoring older Marshalls as well how this effects the owner of the amplifier. I hope this helps in some way & I hope everyone has a great Monday morning! It's 8:43am here at our shop in Upstate NY & the coffee is on, have a great day & an even better week! (raising coffee cup to cheers everyone) - Trace Davis, President / Founder of Voodoo Amps"